CCC's Marjory Bancroft Interviewed by Anne Arundel Lodge
CCC's Director, Marjory Bancroft, was delighted to contribute to an article, The Importance of Interpreters in Healthcare, for Anne Arundel Lodge, a 501(c)(3) dedicated to improving the lives of children and adults impacted by mental health and substance abuse disorders.
Culture & Language Press Is Going Digital!
We're excited to announce that our catalogue of publications is now available on our new ebook platform. The platform allows you to bookmark pages, highlight text and insert your own notes. Keyword and key phrase searches are also possible. All you need is an internet connection and laptop or tablet.
Medical Terminology for Interpreters: An Instructor's Guide Is Here!
We're proud to release the highly anticipated new edition of our popular title, Medical Terminology for Interpreters: An Instructor's Guide. Beloved by interpreter trainers preparing their students for medical interpreter certification, the new edition supports the recently published 4th edition of Medical Terminology for Interpreters. Now in full color, new features in the instructor's guide include entry-level and advanced-level activities for interpreters, two student workbooks for duplication and a final assessment with answer key.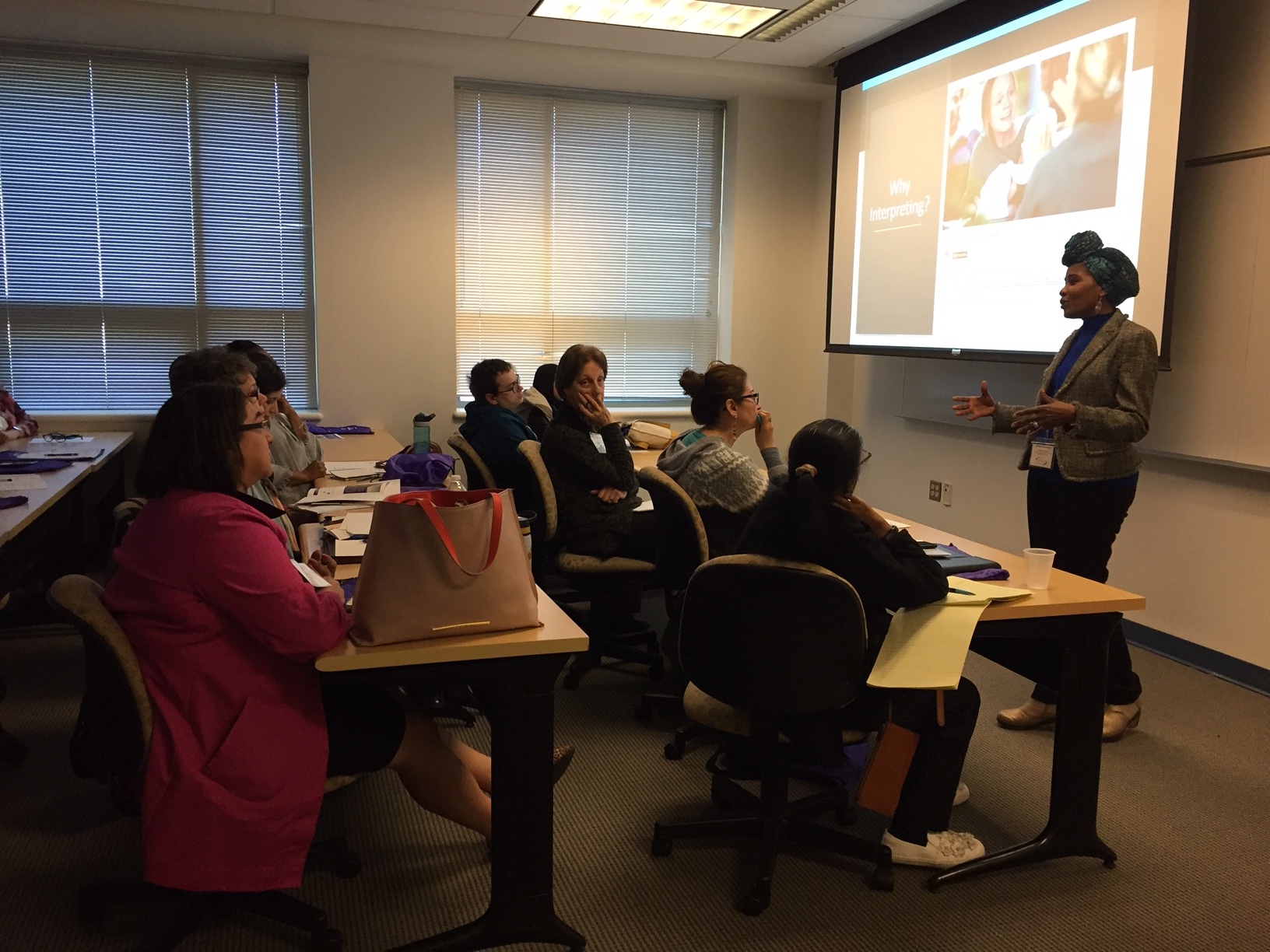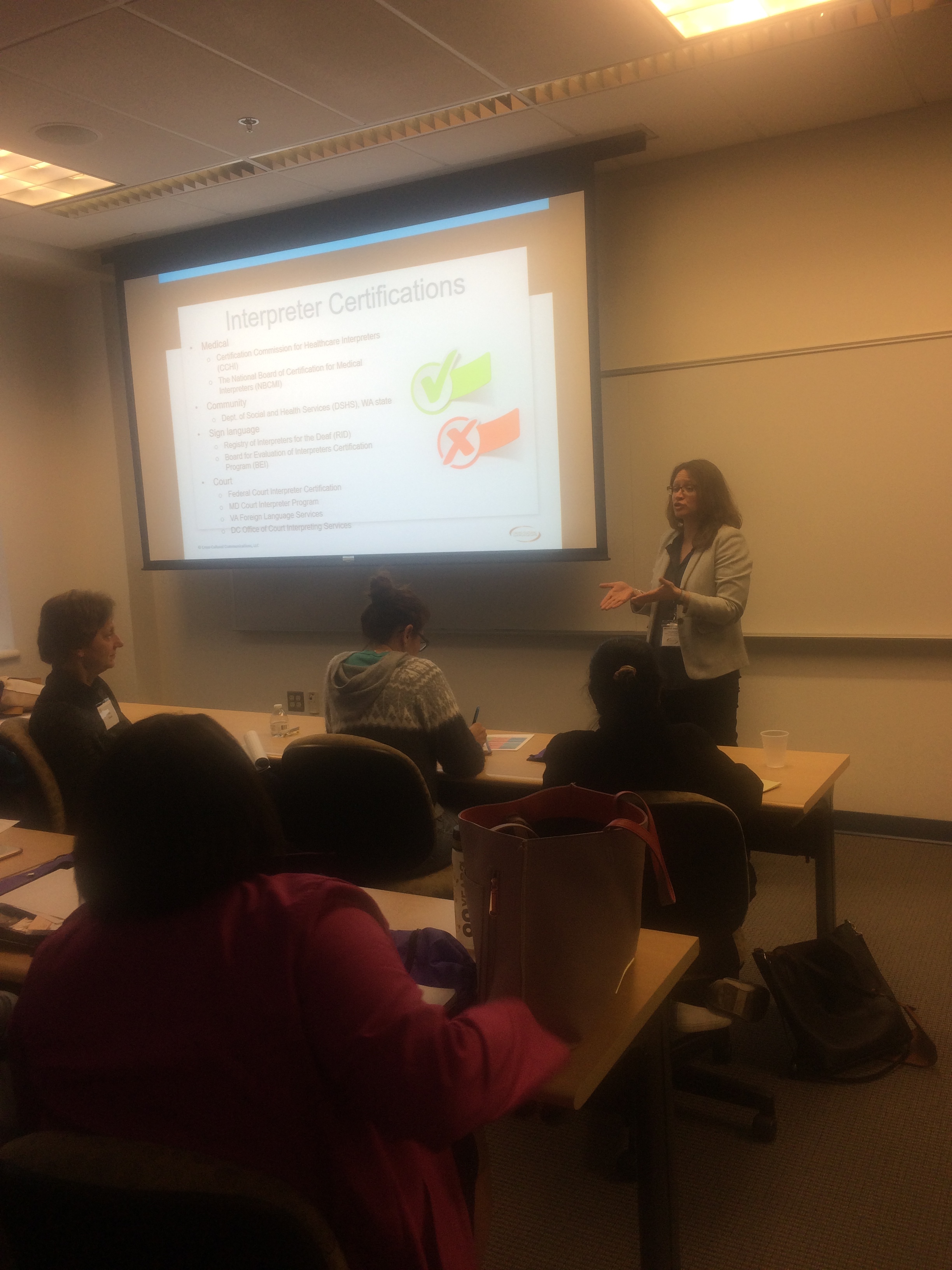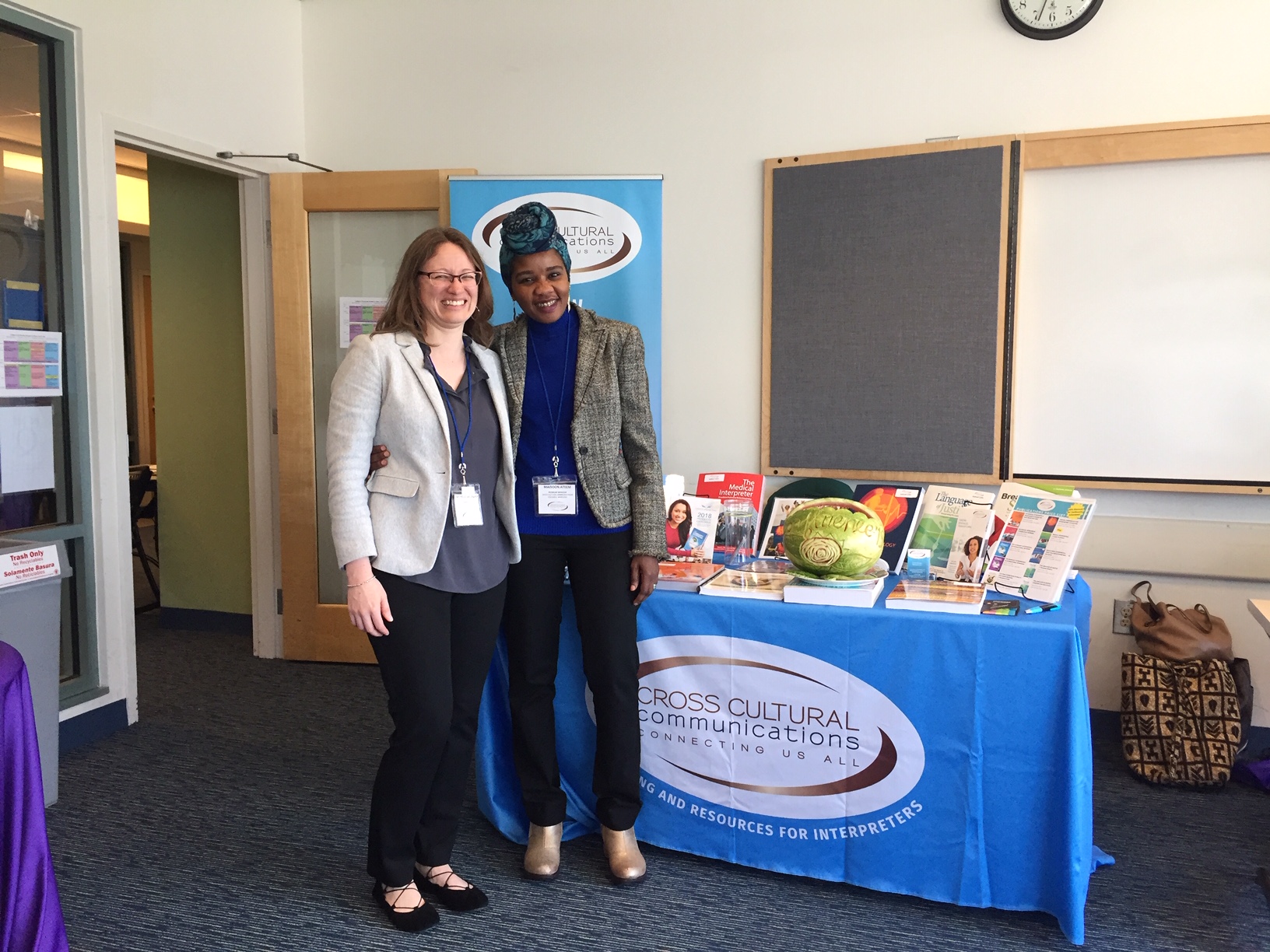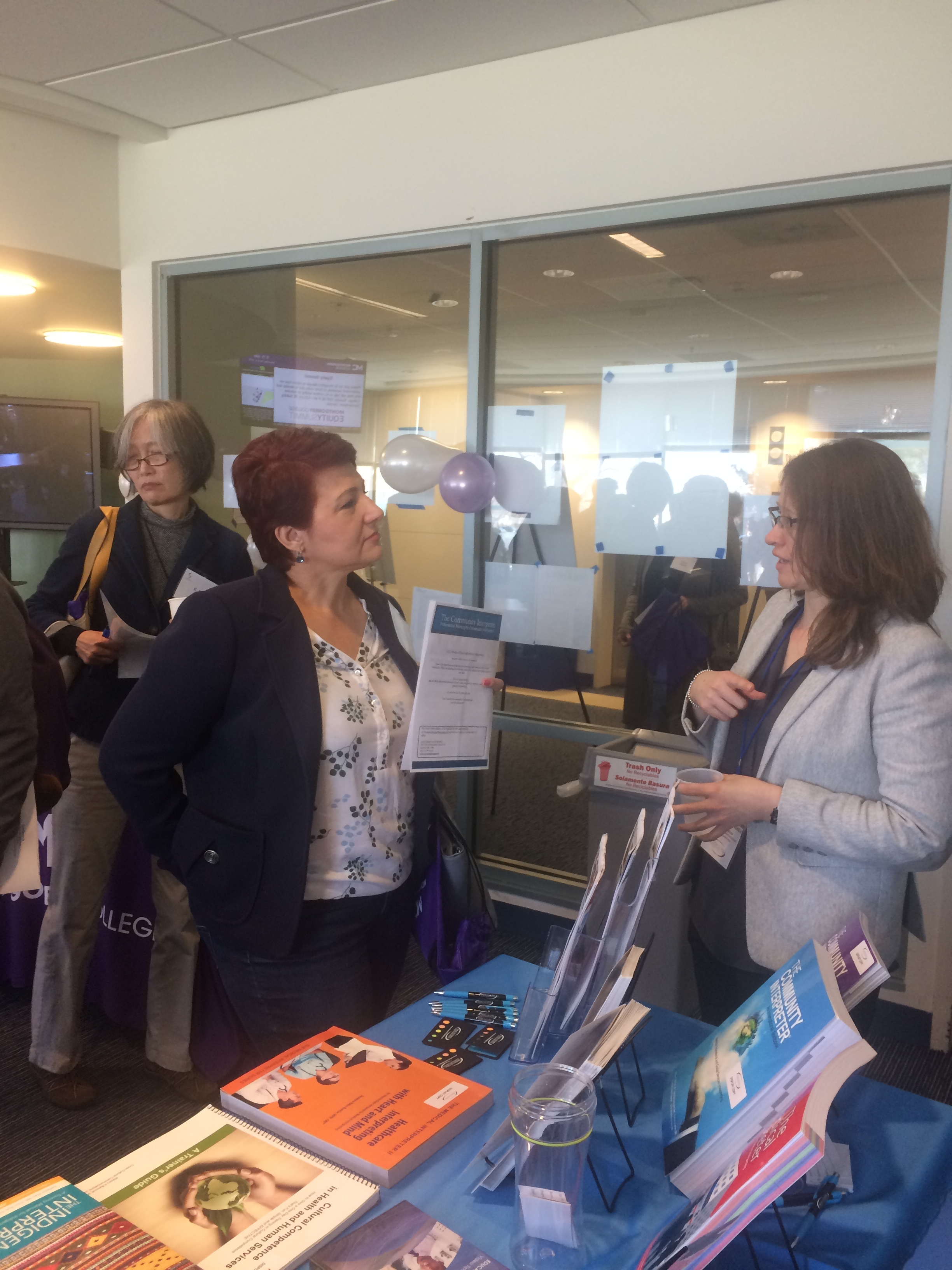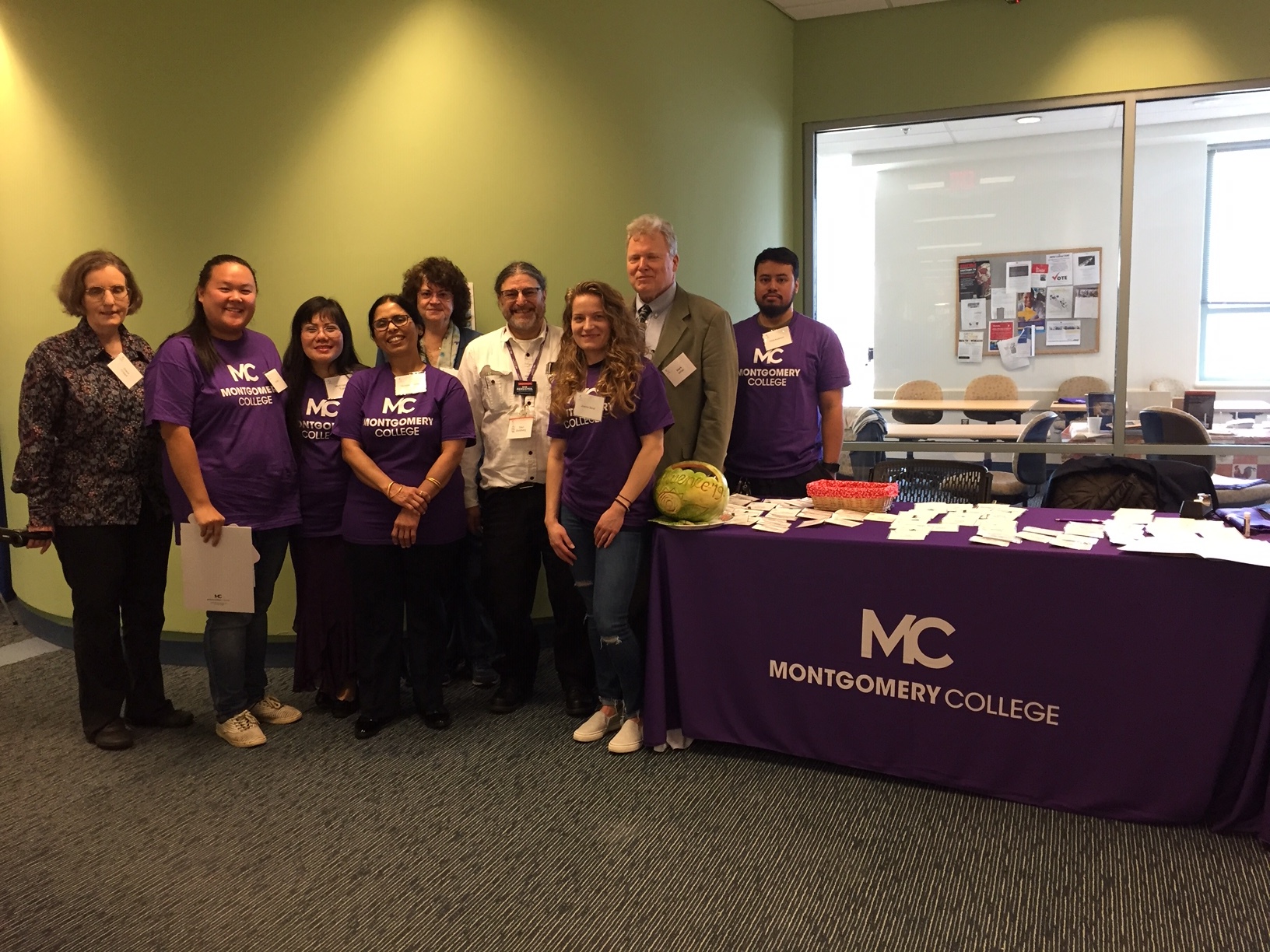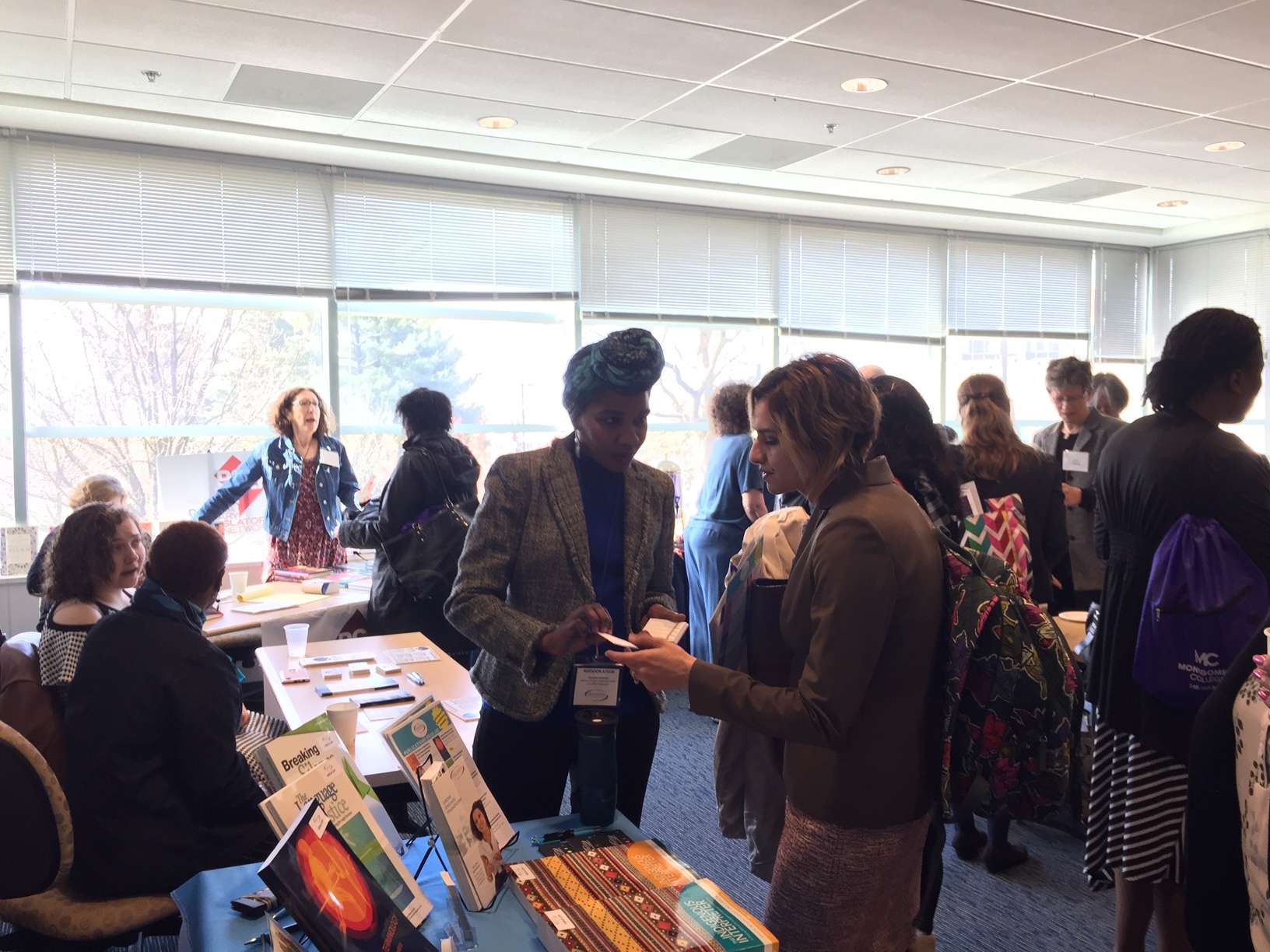 CCC's Michelle Gallagher and Maisoon Ateem Abdelrhman Present at Confluence Conference
We had a wonderful time at Montgomery College's Confluence Conference in Takoma Park, MD on April 6. CCC's Michelle Gallagher and Maisoon Ateem Abdelrhman presented and exhibited at one of the DC metropolitan area's premier events for language professionals.
CCC's Marjory Bancroft Keynotes ITAA's 3rd Annual Conference
We were honored to keynote the Interpreters & Translators Association of Alabama's 3rd Annual Conference on March 30. CCC's Director, Marjory Bancroft presented on trauma-informed interpreting, while our Publications Manager, Andrew Hall, represented us as a conference sponsor and exhibitor. Many thanks to ITAA's welcoming membership for a memorable event!
The Indigenous Interpreter® has arrived!
An astounding contribution to the field, this comprehensive manual (along with its partner workbook) can be used to train interpreters of indigenous languages or for self-study. Produced and published by Natividad Medical Foundation, these books are available electronically at no cost (under a Creative Commons license).
This groundbreaking program guides interpreters of indigenous languages on ethics, protocols and modes -- including consecutive, relay and simultaneous interpreting -- in community and healthcare settings. Each module includes targeted guidance for overcoming the barriers that indigenous interpreters encounter daily in many different service settings.
Starting March 4, we are proud to offer full-color print copies for sale of the gorgeously designed training manual and workbook. Check out our Books & Products page for details!
February 2019
Podcast with CCC's Managing Director: Understanding Interpreting in Schools and Community Institutions
How is interpreting different from translation? When is interpreting necessary and how is it mandated in schools and other community institutions? What are some of the challenges and pitfalls of "home grown" interpreting services? CCC's Managing Director, Michelle Gallagher, discussed these topics and many more on the Higher Aspirations weekly podcast.
Medical Terminology for Interpreters 4th edition is here!
On February 18, we released the highly anticipated 4th edition of our popular title, Medical Terminology for Interpreters. Beloved by interpreters preparing for medical interpreter certification, the new edition is more than double the size of its predecessor. New features include expanded and enriched activities, new exercises, four additional body systems, more specific instructions for use by groups, "study-buddy" pairs or individuals and much more.
September 2018
CCC Celebrates International Translation Day at the Arizona Translators and Interpreters Annual Conference!
On September 29, in addition to exhibiting at ATI's Annual Conference, CCC Director Marjory Bancroft delivered the keynote Give Voice: Change the World -- and Give Ourselves a Voice.
Marjory also gave an action-packed morning presentation with co-presenter Barbara Rayes-Barnett: Rise to the Challenge: Keys for Performing Legal Interpreting in Community Settings. The presentation included The Interpreter's Challenge, a play in three acts, that illustrated some of the daily difficulties faced by community interpreters.
Thank you to our volunteer actors and actresses!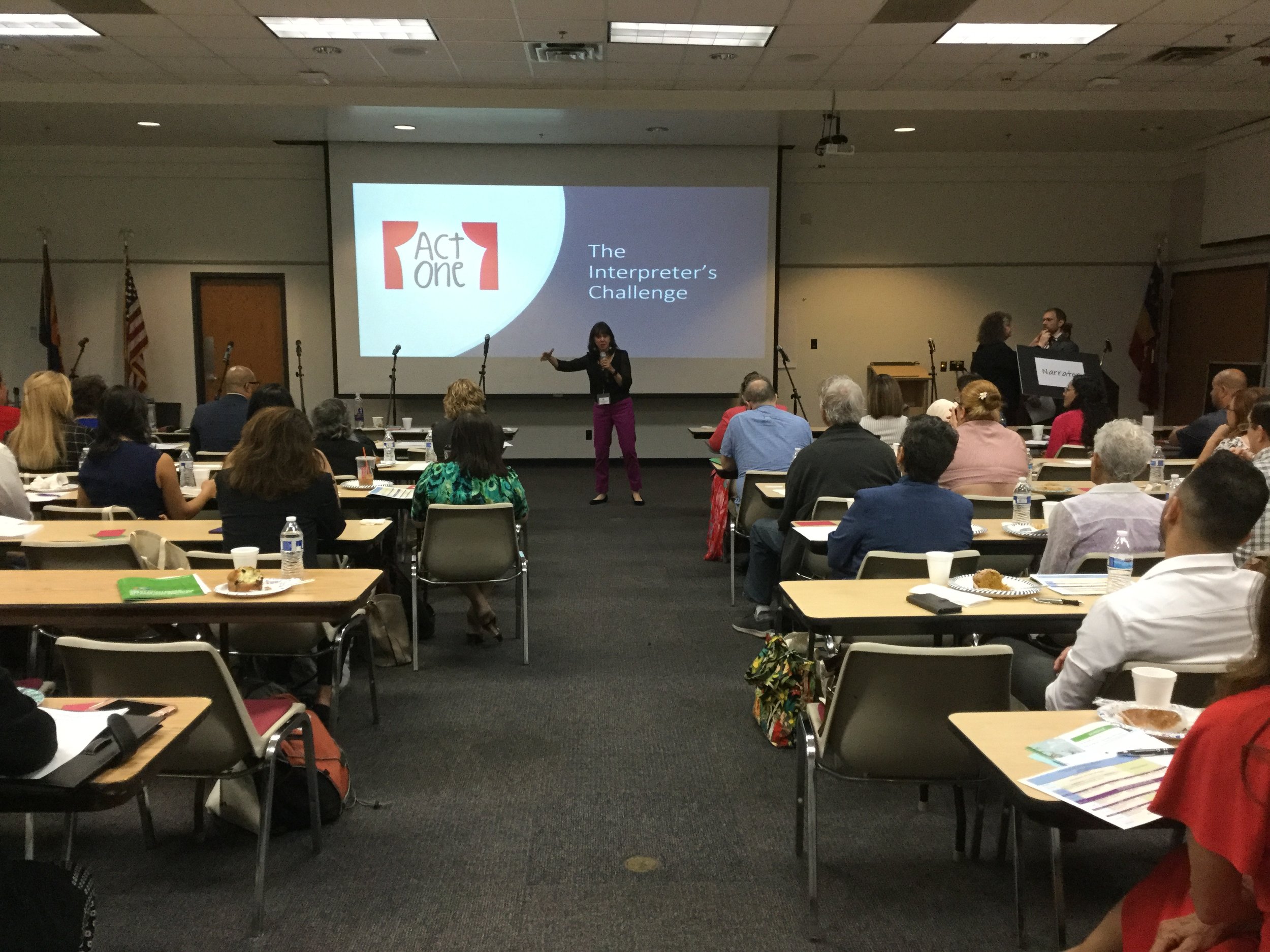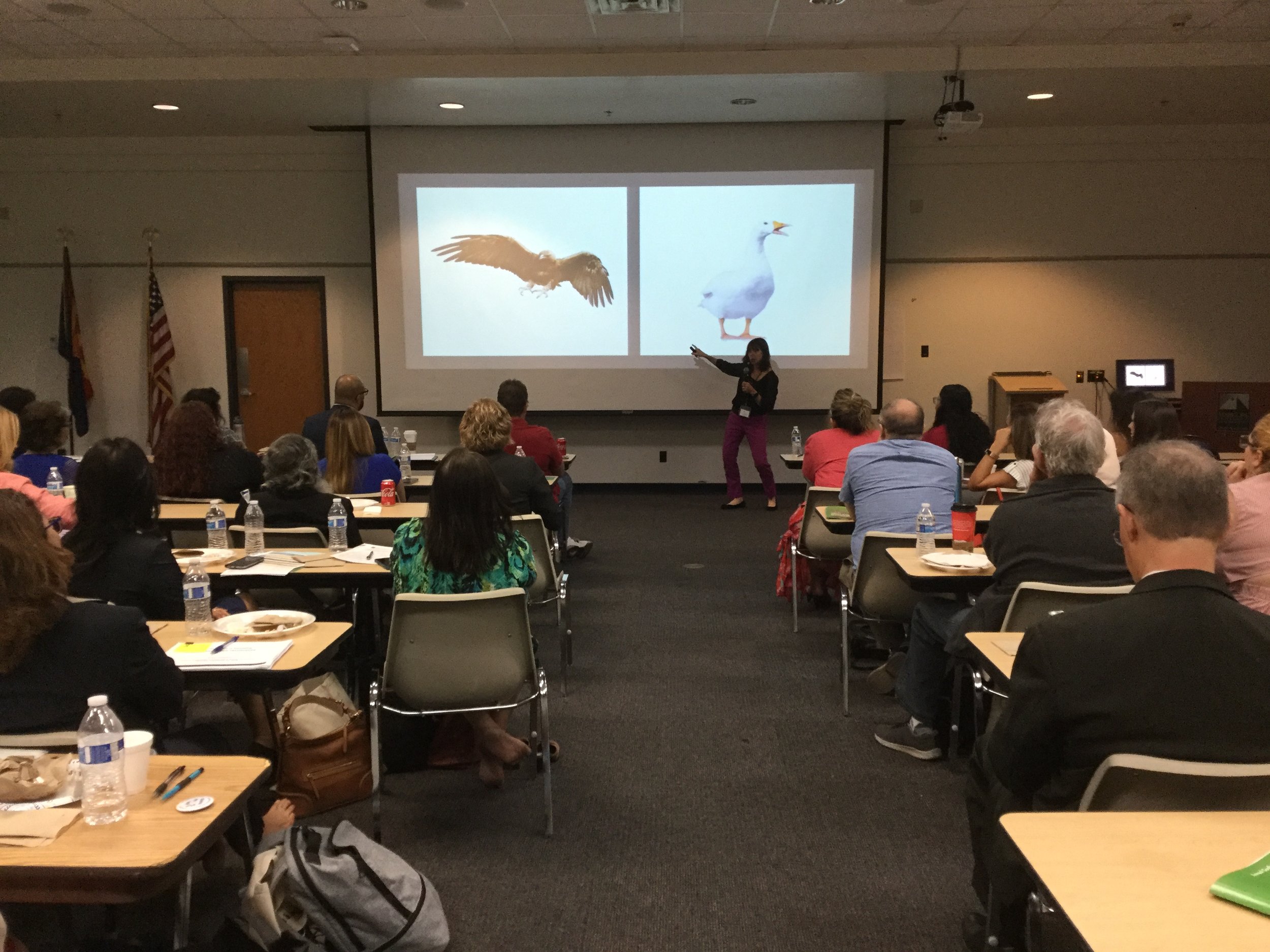 June 2018
"It Breaks My Heart" Travels to Montgomery, Alabama
On June 22-23, 2018 AshaKiran welcomed us to Montgomery, Alabama to deliver It Breaks My Heart: Interpreting for Trauma. Our session, (delivered by the incomparable Carola Green!) was part of a series of trauma-informed interpreter training programs. Participants traveled in from all over the state, including members of the Interpreters and Translators Association of Alabama (ITAA).
AshaKiran delivers culturally sensitive services in nearly 50 languages to individuals experiencing traumatic situations such as domestic violence and sexual assault.
Culture & Language Press Partners with Rittenhouse Distributors
Culture & Language Press (CLP), an imprint of Cross-Cultural Communications, has partnered with Rittenhouse Book Distributors. Rittenhouse provides retailers, libraries and other businesses with publications in the fields of medicine, nursing and allied health from the leading health sciences publishers. We're delighted -- and excited -- by this partnership and hope that it streamlines the ordering process for our allied health and higher education customers.
Visit our Booth -- At a Conference Near You!
Our 2018 conference season is busier than ever. California, Florida, Kansas and Michigan are just some of the states we'll be visiting in the first half of the year. As interpreters ourselves, we love to catch up with fellow professionals at T&I membership associations across the country. Stop by our booth for a chat, great freebies and our book raffle!
It's Here! -- Healthcare Interpreting with Heart and Mind: An Intermediate Textbook for Medical Interpreting
In 2017 we released the second volume of our medical interpreting series. This intermediate textbook will challenge and inform medical interpreters. It includes complex role plays that address many medical specialties; an array of exercises related to ethics, skills and decision-making; graphics with medical terminology lists; and a Spanish-English medical terminology glossary.
The author, Suzanna Reiss-Koncar, holds a master's degree in public health, is a certified healthcare interpreter (CHITM) and has worked as a hospital staff interpreter for more than a decade.
InterpreTIPS Returns!
We're pleased to announce the return of our wildly popular video series which answers your questions about interpreting. Featuring CCC Director Marjory A. Bancroft and InterpretAmerica Co-President Katharine Allen, InterpreTIPS provides short, insightful responses for interpreters and interpreter trainers alike.
Season 2 of InterpreTIPS launched in the June 23 issue of our e-newsletter, Intersect. Don't get Intersect yet? Sign up here!
March 2017
CCC Founder Marjory Bancroft wins CHIA's 2017 Trainer of the Year Award!

We are honored to announce that Marjory Bancroft, CCC Founder and Director, won CHIA's prestigious Trainer of the Year Award for 2017. Watch the video here (minute: 12:30) and check out the photos here. Thank you, CHIA!
Educational Interpreting: Video Tips for Interpreters and Staff
On March 1st, we released the second installment of our video training series for general, medical and community interpreting. Educational Interpreting: Video Tips for Interpreters and Staff features vignettes based on real-life examples of issues faced by interpreters and staff in educational settings. Languages include: Korean, Spanish and Vietnamese.
We're honored to be on the cover of the Nov.-Dec. ATA Chronicle!
What is the greatest gift interpreters can give victims of trauma? Find out in this November 2016 ATA Chronicle cover feature by CCC Director Marjory Bancroft.